Ticket Booth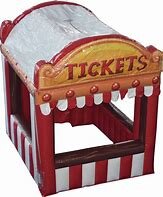 Setup Area: Height: 12' Width: 10' Length: 10'
Actual Size: Height: 12' Width: 10' Length: 10'
Monitors: 1 Adult Required
Outlets: 1 - 110v Household Outlet
Age Group: 6 & Up
Ticket Booth 0 is the perfect solution for any event or venue that requires a reliable and efficient ticketing system. This state-of-the-art ticket booth is designed to handle high volumes of ticket sales, providing customers with a seamless and hassle-free experience.
The booth is constructed from high-quality materials, ensuring durability and longevity. It features a spacious interior with ample counter space, allowing ticket agents to work comfortably and efficiently. The booth is also equipped with advanced ticketing technology, including touch screen monitors, barcode scanners, and printers, making it easy to process transactions quickly and accurately.
Ticket Booth 0 is fully customizable, allowing you to choose the color, branding, and layout that best suits your needs. It can be used for a wide range of events, including concerts, sporting events, festivals, and more.Whether you are hosting a small event or a large-scale production, Ticket Booth 0 is the perfect choice for your ticketing needs. With its advanced technology, durability, and ease of use, this ticket booth is sure to exceed your expectations and provide your customers with an exceptional ticketing experience.Looking for a reliable and stylish ticket booth rental in Austin, TX? Look no further than our top-of-the-line ticket booths. Our booths are perfect for any event or occasion, from concerts and festivals to sporting events and fairs. Made from high-quality materials, our booths are durable and built to last, ensuring that your guests have a seamless and enjoyable experience. With a sleek and modern design, our ticket booths are also a great way to add a touch of sophistication to your event. Contact us today to learn more about our ticket booth rental options in Austin, TX.