Cocktail Tables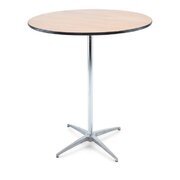 Looking for the perfect cocktail table to rent for your event in Austin, TX? Look no further than our high-quality cocktail tables! These tables are designed to add a touch of elegance and sophistication to any event, whether it's a corporate function, wedding, or private party.
Our cocktail tables are made from durable materials and are designed to withstand the wear and tear of any event. They feature a sleek and modern design that will complement any decor, and they are available in a variety of sizes and colors to suit your specific needs.
Our rental process is simple and hassle-free, and our team of experts will work with you to ensure that your event is a success. We offer competitive pricing and flexible rental options, so you can get the perfect cocktail table for your event without breaking the bank.
So why wait? Contact us today to learn more about our cocktail table rental options in Austin, TX, and let us help you create a truly unforgettable event!