8ft Banquet Table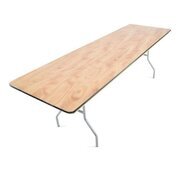 Looking for a spacious and sturdy table to accommodate your guests at your next event in Austin, TX? Look no further than our 8ft Banquet Table rental! This table is perfect for seating up to 8 guests comfortably, making it ideal for weddings, corporate events, family gatherings, and more.
Our 8ft Banquet Table rental features a durable surface that can withstand heavy use, ensuring that your guests can enjoy their meals and conversations without any worries. It also has folding legs, making it easy to transport and set up wherever you need it.
Whether you're hosting a formal dinner or a casual buffet, our 8ft Banquet Table rental is a versatile and practical choice that will help make your event a success. Contact us today to reserve your rental and ensure that your guests have a comfortable and enjoyable experience.