1 Rectangle Table & 6 Chairs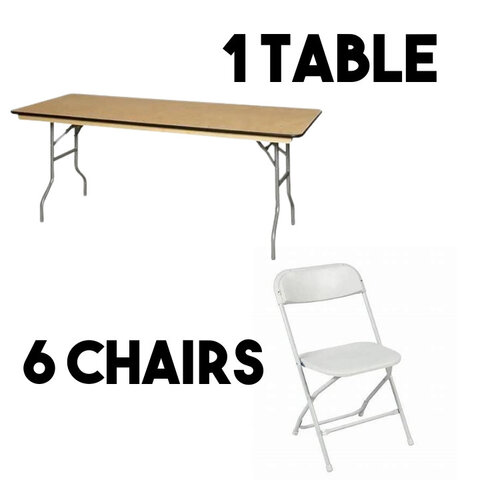 1 Rectangle Table & 6 Chairs
Looking for a stylish and functional furniture rental option for your event in Austin, TX? Our Rectangle Table & 6 Chairs rental package is the perfect solution! This package includes a sturdy and spacious rectangular table that can comfortably seat up to six guests, along with six matching chairs for a cohesive look.
Crafted from high-quality materials, our table and chairs are designed to withstand the wear and tear of any event, making them an ideal choice for weddings, corporate events, family gatherings, and more. The chairs are ergonomically designed for maximum comfort, while the table boasts a sleek and modern design that will complement any decor.
Whether you're hosting an intimate dinner party or a large-scale event, our Rectangle Table & 6 Chairs rental package is a smart and affordable choice. Contact us today to learn more about our rental options and to reserve your furniture for your upcoming event in Austin, TX.
Book Your Tables and Chairs Rental Here
Count on us for high quality party rentals at affordable prices! All equipment is meticulously inspected and cleaned in between rentals to ensure that it is ready to meet your party planning needs. Make your reservation online, or call us directly at 512-294-2221.