Pirate's Revenge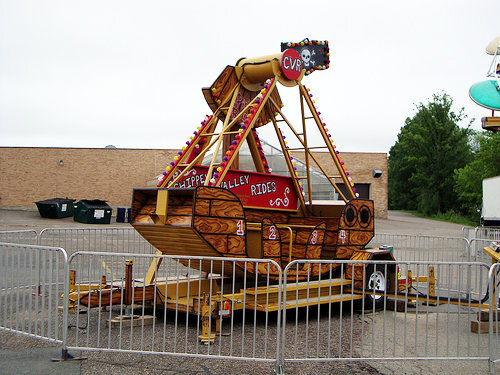 Setup Area: Height: 26' Width: 9' Length: 14'
Actual Size: Height: 25' Width: 9' Length: 14'
Pirate's Revenge
Ahoy, me hearties!! Brace yourselves for the Pirate's Revenge mechanical ride rental from Jump Around!
The Pirate's Revenge is a swinging fun ride for any event! Up to 12 adults or children hop onto the ship, which begins to swing from side to side increasingly faster and faster! The ride itself is embellished with plenty of pirate imagery, including an "all-wood" ship and a pair of pirate skulls that watch over guests with their terrifying glare!
Reserve the Pirate's Revenge Rental Today
The rental includes perimeter fence and lighting, and we take care of all setup for you!
The rental price includes 4 hours, and additional hours are at $100 each.
For any questions, give us a call directly at 512-294-2221!
Make your reservation online or over the phone, and don't forget to include other add-ons such as concessions, tables and chairs, and party speakers!