Bar Stool - White Cushion - Gold Frame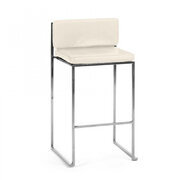 Introducing our elegant Bar Stool with a White Cushion and Gold Frame, the perfect addition to any modern home or commercial space. The sleek and sophisticated design of this bar stool is sure to elevate any room's aesthetic, providing both style and comfort.
Crafted from high-quality materials, this bar stool features a sturdy gold frame that is both durable and stylish. The white cushion provides a comfortable seating experience, making it the perfect spot to relax and unwind after a long day.
This bar stool is also incredibly versatile, making it suitable for a wide range of settings. Whether you're looking to add a touch of sophistication to your home bar or elevate the ambiance of your restaurant, this bar stool is the perfect choice.
So why wait? Add our Bar Stool with White Cushion and Gold Frame to your space today and experience the perfect combination of style and comfort.